Burton Snowboards, the world's very first snowboard factory. Burton is a pure snowboard company solely dedicated to creating and perfecting a full-range of the best snowboarding products on the planet. Led by founder and owner Jake Burton, widely considered the pioneer of snowboarding.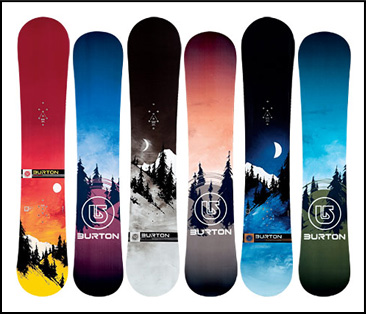 Burton's passion is snowboarding - and since Burton was the first snowboard factory making the sport accessible to almost anyone, snoboarding took off and now snowboarders eqal skiiers at almost every mountain resort. Celebrating many years in production, Burton has fueled the growth of snowboarding worldwide through continuous work with, and support of, their Global Team riders and development of successful programs such as Learn-To-Ride (LTR), The Chill Foundation, and the US Open Snowboarding Championships.
Headquartered in Burlington, Vermont with international offices in Innsbruck, Austria and Tokyo, Japan, Burton, the industry leader, is the brand of choice for millions around the world.
For the best prices on top name snowboards and snowboarding equipment Burton Snowboard Deals
Vaportech technology As close as you can get to riding on air. Exclusive to the ridiculously lightweight Vapor™, Vaportech™ represents an entirely new board building recipe. Edges, core, sidewalls, topsheet, fiberglass, resin, even the graphic application - everything is minimized, then enhanced with the same magic NASA uses to explore outer space. The result is a seemingly impossible strength-to-weight ratio for the ultimate blend of weightlessness and hyper-snow-sensitivity. Vaportech gives you every conceivable advantage, what you do with it is up to you.
Infinite Ride technology No more break in period. No more limp noodle. Flex and pop that stays true, no matter how hard you ride.
You won't find technology like Infinite Ride® anywhere else but Burton. This exclusive pop and power-enhancing technology allows us to break in the board for you, while also increasing its strength. We do this by overbuilding the board, then putting it in a machine that simulates the conditions found during a season on snow. The result is a board that rides the same from the shop to snow, season after season.
Vaporskin technology Drops up to ½ pound of weight while magnifying board feel.
Find the best board for you, our new Ride Guide features a rating system which breaks down the boards ride into five categories Groomers/Piste, Powder, Rails/Jibbing, Halfpipe and Park. Look for boards that excel in the areas you plan to ride the most this season.
Also: Boots, Bindings Bags, Headwear, Custom Sweatshirts, Long Sleeve T-Shirts


Discount Snowboards at Summit Superstore: Academy • Burton Snowboards • Forum • Gnu • K2 • Lib Technologies • Option • Ride • Rome • Salomon Discount Burton Snowboards at the Summit